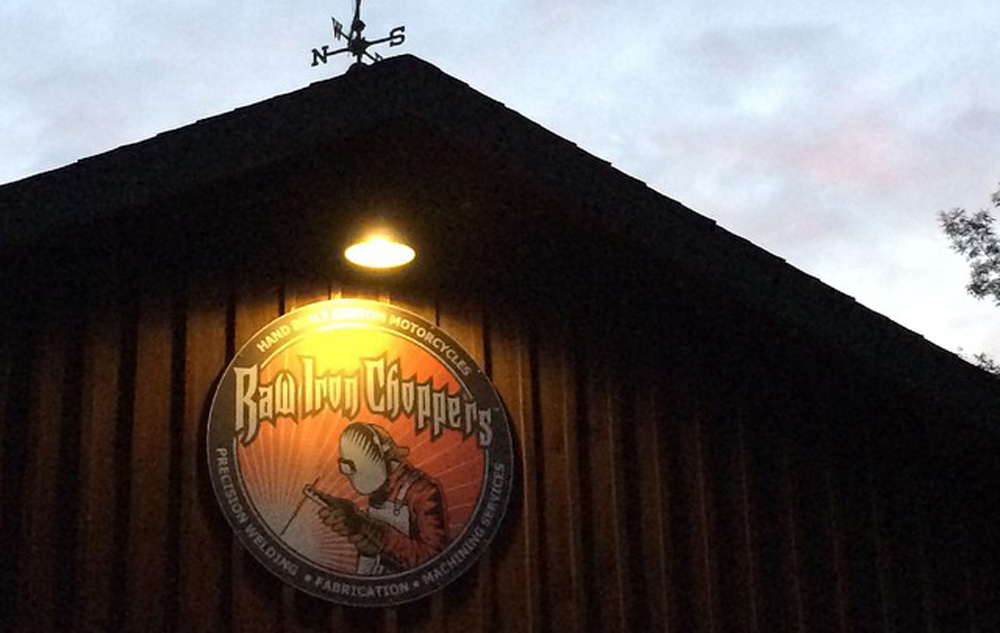 Raw Iron Choppers LLC is not your normal bike or welding fab shop. The company is a licensed NHTSA custom motorcycle manufacturer, complete motorcycle service facility, and precision welding & fabrication shop. Based out of Chardon, Ohio (roughly 30 miles East of Cleveland) and building bikes since 2003; owner, Jesse Srpan fully believes only in the highest of quality when it comes to his work no matter what the project is. Raw Iron Choppers is a shop that believes in giving the customer only the highest of quality of workmanship with 100% attention to detail, at competitive prices, but with timely turn around and capable to meet the tightest of deadlines.
The company is not limited though to just custom motorcycles, but service and mild customization on any and all types of motorcycles, full mobile welding, and areas of work needed welding/fabrication from heavy construction, aerospace, and nuclear fields. R.I.C. doesn't just build bikes, don't let the company name fool you. They also have a full weld shop, certified, and experienced. Raw Iron does everything from hand rails, frames, paint/restoration work, and R&D of custom parts as well as repair work on any ride are possible. If you're in need of welding instructing, Raw Iron Choppers even offers private welding classes on site for any and all types of processes in the welding fields.
Jesse values consistent creativity to always keep people guessing what he will do next. So feel free to contact us (contact page link) for that new bike build, repair, or part that may need welded.
Jesse Srpan has been building and modifying bikes since the age of 13, but has been exposed to the lifestyle for as long as he can remember. From watching his dad work on bikes to racing motocross, Jesse has always had a passion for welding and fabricating. His work ranges from small fabrication projects to designing some of the most respected and unique motorcycles in the nation.
During most of his young life, Jesse was employed in the summers by his father at their family-owned construction company. Jesse had saved enough money so that by the time he was 13, he told his parents that he wanted to buy a mig welder in late summer of 2003. So he did just that, and off he went! He then decided to take an old, rusted mini-bike from the 70's out of the garage and rebuild it. From there he built a custom mini-bike of his own style and liking. He continued on to create another custom mini chopper in 2005 which would start up his career in the motorcycle industry and lead to the start of his company, Raw Iron Choppers. Jesse pursued welding with an intense drive to be very successful at it, in 2007 he took vocational classes for welding at Auburn career center, 2009 he began taking welding classes at Lakeland Community college with instructor and close friend, Ryan Eubank to further his welding knowledge, Jesse has worked/learned from some of the most respected and educated welding instructors from Lincoln Electric and also through the welding and bike industries that he is involved with.
It's taken Jesse years to build his business and perfect the skills it takes to operate it successfully. With those skills come the hundreds to thousands of hours of time given up, a lot of patience, and knowledge to be considered "professional." With that said, here are a few of Jesse's accomplishments and certifications: NHTSA certified motorcycle manufacturer, 2014 Discovery Channel #Bikerlive winner (Rust belt episode-ohio), 15th out of 50th place "Postsecondary" at 2010 Skills USA "National" welding competition, AWS/ASME certified welder in (GTAW-tig)"stainless, steel, aluminum, and chromoly aerospace applications 3F & 5F" (GMAW-mig) "3G & 4G" (FCAW-fluxcore) "3G & 4G" (SMAW-stick) "3G & 4G" processes and (ASME boiler & pressure vessel code) "2G", and his bikes have been featured in numerous national newsstand motorcycle publications from covers to articles nationally and internationally.
Jesse can be found welding, fabricating, or even teaching someone how to weld in his shop, Raw Iron Choppers LLC which is located in Chardon, Ohio. Jesse has a "pay it forward" mentality when it comes to helping and supporting the industries he's involved with from the custom bike and welding industries. One of his biggest accomplishments has been having the opportunity of teach people of all ages how to weld and fabricate at Lakeland community college since late 2012. Building individuals with a skill set and giving back to society with a trade is what Jesse believes will keep the trades alive and rolling forward.
Jesse has a quote that he fully lives by and by which he sets his company standards: "Make Shit Happen"
SHOP HOURS ARE
BY APPOINTMENT ONLY